Jewelry for pet ashes…
Traditionally, a reliquary (from the latin 'reliquiae' meaning 'remains') was a form made out of metal and/or glass to house a relic. A relic is something of historic or sentimental value that survives from an earlier time. It can also be a part of a deceased person's (or animal's) body that is kept as an object of reverence.
The beginning of my exploration of pet memorial jewelry…
As an artist/metalsmith I became interested in reliquaries when my 23 year old cat, Miss Moppet, died the first year I was in graduate school. When I received her ashes it was clear how utterly significant they were as a way of preserving my vital connection with her. I wanted something that would remind me of what it felt like to be loved by her and what she had taught me; an object that connected us.
Creating a pet memorial can be a powerful part of the grief process. Since that time, I have made hundreds of reliquaries over the past 25 years. People who choose to have a reliquary made describe to me how important a part of their grief journey and healing it is. To memorialize their loved one; to have a physical object to touch and see creates connection and brings comfort.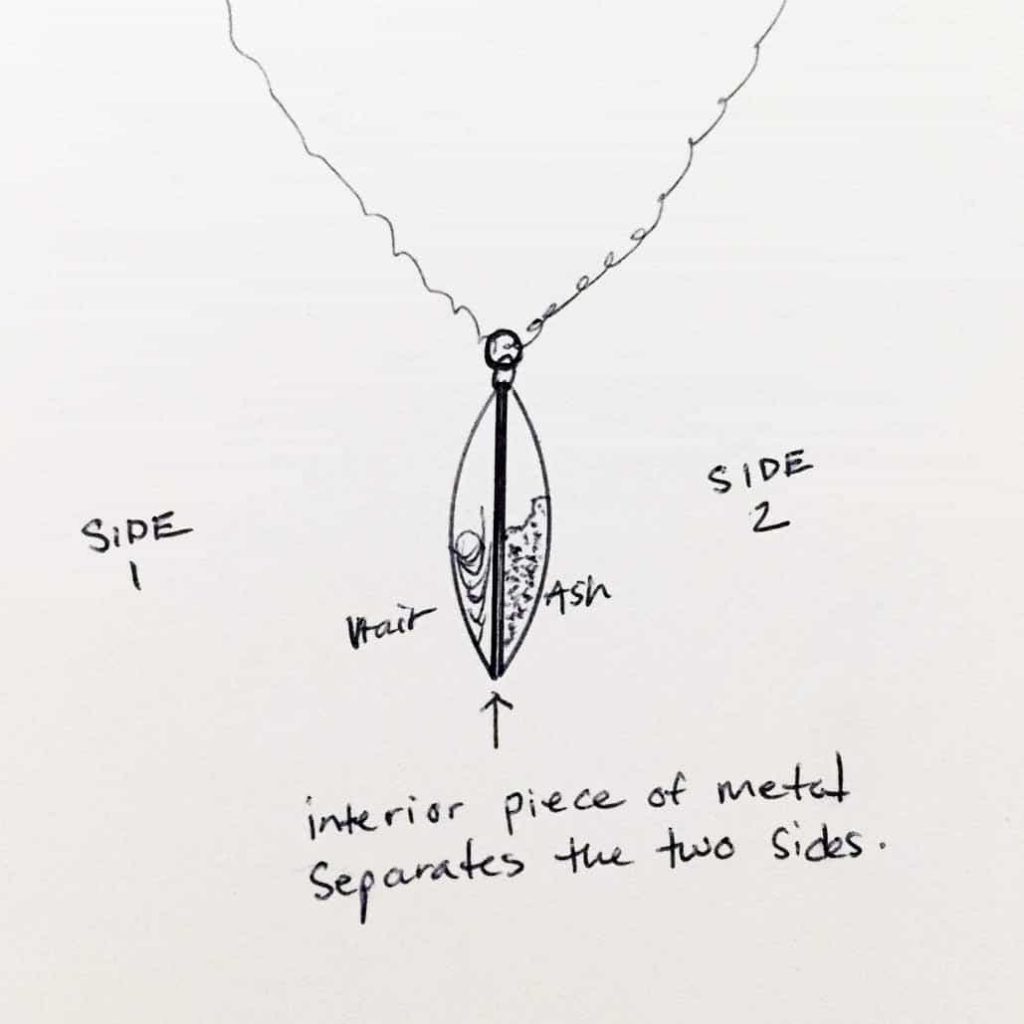 Pet Reliquaries are designed to be two-sided, and can contain remains on both sides.
"Dear Lisa, Well, after I made it through the poem in your card, I opened the box. What I found inside stopped my tears. Thank you, thank you, thank you for a beautiful memorial. It feels warm against my skin, and I feel Casey's quiet presence and power. I can't thank you enough. What a blessing."
"I called the post office this morning and the reliquary was there, and I was able to pick it up. Its simple and beautiful and perfect and I love it. Again, I have no words, no words to convey what it means to me. Thank you for helping me when I needed it most. What a gift to be able to help lift others up. I live in a very small, rural town out here on the island, where everyone knows everyone. All the postal carriers (grand total of three) knew Scooter and loved him. The postal delivery jeep here proudly displays a "Dog is my copilot" bumper sticker. When I picked up the box today it was adorned with cards, which every employee at the post office had signed, and there was a dog angel lapel pin affixed to it There's another reason its so easy to love animals; they bring out the best in people. I hope I have the opportunity someday to meet you in person. so I can thank you with a proper hug!"
"Dear Lisa, Thank you so much for the memorial art that you created with my deceased horse Hannah's tail. When I received the piece it seemed to become a catalyst for my being able to move through the grief and reconnect with her wise and wonderful spirit. So many of my clients had powerful experiences working with Hannah and so I know that they too will appreciate the memorial. I feel you are a talented artist as well as being gifted with a special equine connection. Many Blessing to you and all those whose lives you touch,"
"We lost our Black Lab, Maverick to bone cancer over a year ago. He was just a baby, having just turned 4 when he was diagnosed. He was such an integral part of our life and we missed him so much. Although we planted a tree in our backyard for him and grieved for over a year, my husband's healing was not complete. I wanted to be able to help him incorporate the extreme loss he felt for Maverick and I did not know how to go about it until I met Lisa. Together we created something special for my husband so he could always hold Maverick's memory and spirit in his heart. She discussed the process with me and was so exceptional in helping to design a reliquary that was perfect for us. When I received it, I was overwhelmed by the beauty, and the powerful spiritual energy that it held. As a symbol of Spiritual beauty, it holds great comfort for my husband. He said that it was the greatest gift that anyone had ever given to him. Thank you, Lisa for helping me to provide a final tribute to such a vital member of our family."

 
"My horse Kevin was a very special presence in my life. He gave me more smiles than I could ever count. I had not prepared myself emotionally for the prospect of losing him, and when that time came I felt at a loss as to how to honor him and keep his spirit near to me. When I spoke to Lisa about making a reliquary for him I wasn't really sure exactly what I wanted, but somehow she made it perfectly. I still think of Kevin often and being able to have a part of him close to my heart has helped me to recover from his loss, and honor the memory of a truly special friend."

 
"Although I had seen pictures of her work, I was stunned by the peaceful beauty that our piece held. Pictures can only give you a glimpse into the spiritual power that is felt when you actually hold your own reliquary in your hands….and heart."